Concepts
Welcome to Tuaoni
A backwater colony, at the arse end of the universe, where the unruly prosper and the destitute perish.  A world full of hustlers, criminals, mercenaries and assassins.
It's also the setting to Metal Made Flesh – an illustrated Cyberpunk novella from the minds of artist Simeon Aston and writer Jeremy Biggs.
What is Metal Made Flesh?
Metal Made Flesh is a collection of origin stories for 3 characters (Metal – Izobel Vice, Flesh – Phaeon Nex and Made – The Beast, Kalibos) set in the universe created by Aston.  Although the stories are self contained, they contain cross over elements that Aston and Biggs hope to expand upon in the near future.  The idea is that these stories form an introduction to the planet with hopes that other writers and artists can be brought in to expand the universe.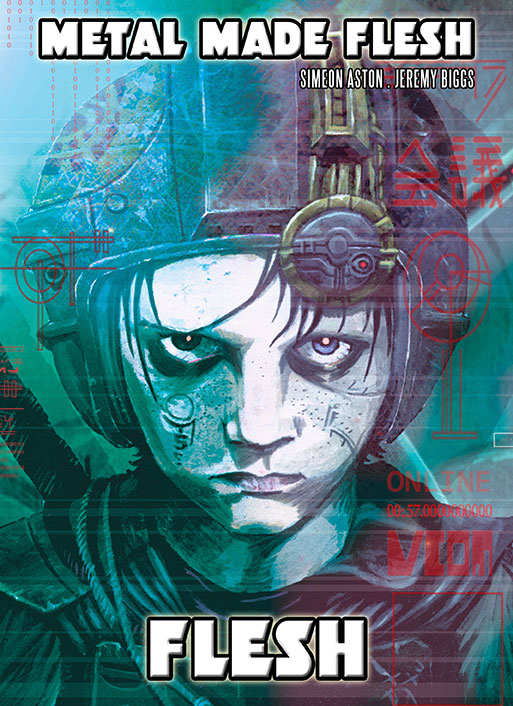 So in essence you're Universe building?
Jeremy:  Exactly.  The minute I saw Simeon's original character sketches and his first story featuring the characters (Hunters) I knew it had the potential to have a whole raft of characters and stories, alongside the main character arc – and Sim's pictures are so rich with detail, there's so much to draw from.
Simeon, how did you come up with the initial ideas for the characters?
Simeon:  This project has been a labour of love for me. The cyberpunk world of Tuaoni and its unsavoury population have been kicking about in my mind in the shape of concepts, sketches and daydreams for 10 years. The first sketches of the main characters were done on the back of memos back in 2003 whilst I was working at a Call Centre.
The fusion of man and technology has always fascinated me.  During my college days studying art and design at Brighton city college (94-97) it was all about H.R Giger, Dali,  Mobeius and Syd Mead. Anime features like Ghost in the shell and Akira quickly set the standard for me in terms of visuals. I was hungry for detail and fully fleshed out worlds.  Movies like Aliens, Terminator, Legend, The Empire strikes back, The fifth element and of course Bladerunner quickly became sources of inspiration. I would hunt high and low for info on the making of these visually striking movies and the talented people behind them.
Jeremy:  This is where Sim and I really have a meeting of minds – these are exactly the kinds of science-fiction influences I had.  In terms of books although I'd read Asimov, Hoyle and so on, it was always PKD and William Gibson that I would come back to – this has made it really easy for me to step into Sim's world.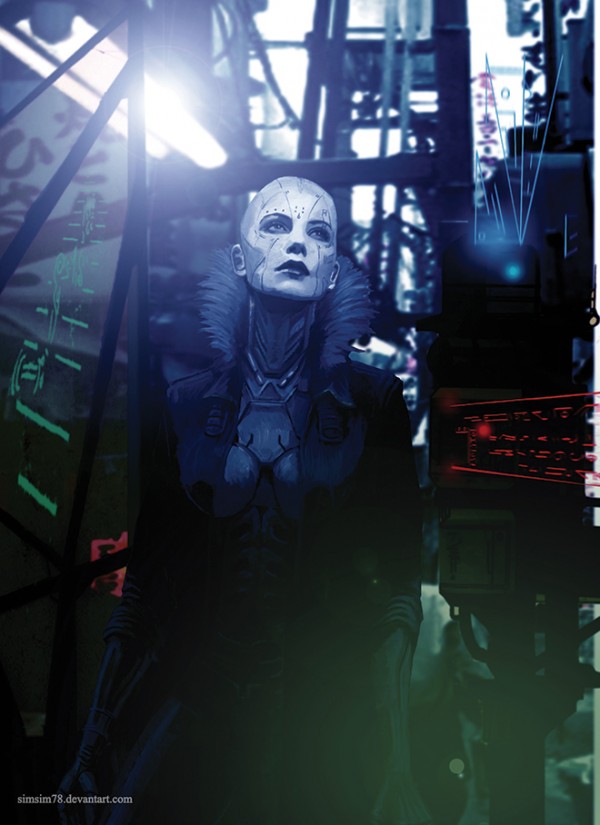 Simeon, Tell us a little about how you went about designing the characters?
Simeon:   What started as a series of concept designs and action shots gradually started to grow into a world.
Originally there were five mercenaries but I ditched two as I felt they disrupted the interesting juxtaposition i had with the others.  I feel that the most interesting characters are the usually the ones shrouded in mystery where their appearance fills in the blanks.
Boba Fett's battered armour, trinkets and overall well travelled appearance speaks volumes about who he is.
Izobel came first.  Her design inspired by Chris Cunningham's video to "All is Love" by Bjork.  Because I always found villains more interesting, it was natural that Izobel became a cold blooded femme fatale rather than a bright shiny super heroine and the world she inhabited was going to have to be equally as dark and dangerous.
I set out to create three very distinctive characters with distinct forms that were easy to recognise.  Individuals from very different backgrounds with distinct personalities that all had a connecting element, beyond the world they're in.
Jeremy:  Without giving away too much of the story, they're all faced with a similar kind of situation – but the way they deal with it is very much a reflection of their characters.  The situation also forms the basis of the story beyond Metal Made Flesh – where the 3 characters will appear together and have to deal with the situations they're placed in.
Simeon:  They come through on the other side either better or worse – then they have to deal with being and lost on an unforgiving planet full of alien creatures.  I'd always wanted the race of humans to be downtrodden and on the brink of extinction.   I feel that its somehow makes the characters more delicate and rare with room for the story to grow with strong themes of revenge and redemption.
Jeremy:  This also appealed to my sense of social satire, particularly with everything that's going on in the UK right now, that the humans had to be refugees and immigrants – and to comment on how they were often exploited by the people in power for their own ends.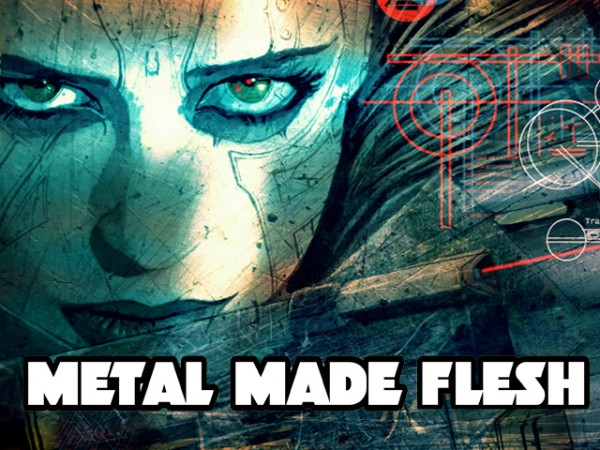 Are there strong elements of social commentary in there?
Jeremy:  I think science fiction works best when it explores themes and ideas that are relevant – I much prefer say, Charlie Brooker's Black Mirror over Hard Sci-fi – but it's not advocating a strong message.  There's no danger of a po-faced preachy a "save the rainforest" type subtext.  It's dealt with a light, somewhat satirical hand – a sign of the 2000AD influence at work.
Why didn't you go the full blown comic book route?
Jeremy:  Simeon and I discussed this when we started.  His first book, Hunters wasn't a traditional comic book – it already had the basis for being an illustrated story – and Simeon, at the time, wasn't too keen on making it into a traditional sequential art form – he was much more into illustrative pieces.  I'd felt that combination of artwork and prose presented an opportunity to lose some of the more detailed description in favour of concentrating on character and plot – enabling it to move very swiftly through a dense plot.  When we see on the opening page of "Flesh" Phaeon standing on the Bridge, overlooking the strip – we viscerally understand exactly what kind of world he lives in – and I can dive straight into the story without having to set anything up.
You're just 5 days into your Kickstarter and you're already almost 133% funded – how do you attribute your success?
Jeremy:  Well – a number of things.  First, Simeon's artwork speaks for itself.  We've already had comparisons to Moebius and Jodorowsky's Inca (high praise indeed).
Secondly, We spent six, seven months taking Flesh, the first story to conventions – building up a group of really enthusiastic, loyal fans and taking their comments on board.
Thirdly, we tried to make the Kickstarter start with as much impact as possible.  We commissioned a couple of really talented guys to help us make a video – Hal Laren from Reaper Comics animated Sim's artwork, James Gibson edited it and Richie Rynowsky, an up and coming composer, scored it.
Earlier in the year we met Connor Jessup from Spielberg's Falling Skies series – and he was really complementary about Flesh – he's supported the project – as has DJ Food aka Strictly Kev.  All of this pre-release work helps to maximise the impact – and get that vital week 1 funding that is so necessary if you're project is a success.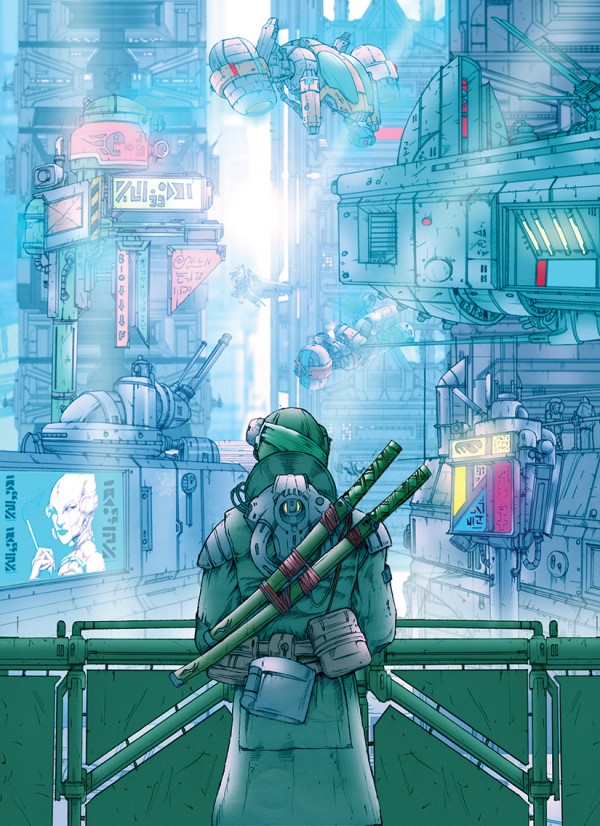 Now that you've reached your target – where are you going to go next?
Simeon:  At the moment we're finalising some high quality giclee prints, an expanded hardback Kickstarter only collected edition with exclusive material, artwork and bonus material.
Jeremy:  We're working on a few more things – but we'll announce them in the near future if and when we get confirmation that they're viable.
What would be your advice to anyone thinking of universe building?
Jeremy:  Universe building takes time, effort and passion.  If you've ever seen the amount of hard work that goes into making a film like Alien – then that's exactly the kind of work you will need.  A clear idea of the feel of the world helps too.  But mostly it needs lots of time to develop those ideas – constantly revising and augmenting them.